May 14, 2022 | Cindy Molin
May 2022 - Newsletter and Upcoming Events
Watercolor Rose and Rosé with Loretta
May 20, 3:00 pm - 5:00 pm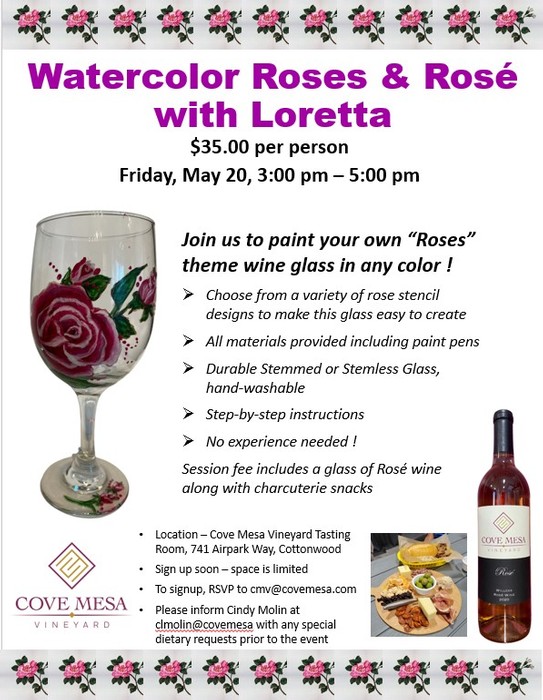 ---
Wine Club Members
Spring Wine Release - Pickup Apr 29 through May 15
Our Spring Wine Release is ready - the standard 6 bottle release is as follows:
New - 2021 Chardonnay, Pillsbury Vineyard, Willcox ($35)
New - 2021 Picpoul Blanc, Yavapai College Vineyard, Verde Valley ($32)
New - 2021 Cynthia's Cuvée, Blend of Gruner Veltliner & Riesling ($24)
2019 Sangiovese, Golden Rule Vineyards, Willcox ($42)
2020 Sangiovese, Golden Rule Vineyards, Willcox ($39)
New - 2020 Reserve Sangiovese, Golden Rule Vineyards, Willcox ($46)
The price of the standard 6 bottle release is $218.00 or $185.30 with your 15% wine club member discount (with tax, the total is $203.55).
You can customerize your release - either in person at the Tasting Room when you pickup or contact Cindy Molin via email at clmolin@covemesa.com. The 2020 Reserve Sangiovese is very limited and, at this time, only available to Wine Club Members and limited to 2 bottles per member in the release.
Any releases not picked up by May 15 will be charged on May 16 as the standard 6 bottle release and available for pickup or shipping at a later date.
Special Message from Cindy - We've had lots of interest in the new Cynthia's Cuvée which is a blend of Gruner Veltliner & Riesling. My passion is great white wine - as the back label says "Cynthia's Cuvée is named for Cynthia Molin/Owner, lover of fine white wines". I hope you can try this soon and love it as much as I do!


---
New Tasting Room Update
Construction is underway on the new Cove Mesa Vineyard Tasting Room that will occupy a prominent location in the heart of Cornville. Located at the intersection of Cornville Road and Page Springs Road, the new 3,400 sq. ft. Tasting Room is slated to open by Summer 2022. It offers an elegant, upscale farmhouse aesthetic that reflects the natural beauty of the Verde Valley.
"We are thrilled to expand our operations with a larger tasting room that can accommodate our growing fan base," said Cindy Molin, co-owner of Cove Mesa Vineyard. "The Verde Valley is rapidly becoming a premier wine destination. Our new tasting room will be a lovely place for guests to relax and enjoy the warm and inviting environment as they experience our elegant, Old-World style wines, which showcase the unique terroir of Arizona's high desert vineyards."
The new Tasting Room will have a pet-friendly covered porch and will feature a beautifully appointed interior room for sit-down tastings, including a welcoming wine bar and comfortable seating throughout. Designed by Scottsdale-based architect and design firm Camber & True Collective, the space was designed with the energy and personality of the winery's owners in mind.
"Throughout the development of the design, we wanted to create something that reflects the hospitality of the Molin family. The space is stylish and modern, yet has a bit of a refined rustic vibe that's comfortable and inviting, making you feel right at home," said Deborah Sylva-Henslin, Founder and CEO of Camber & True Collective. "It was our vision to create a space that was very photogenic, appealing to the next generation of wine lovers and Arizona visitors while remaining a much-loved gathering space for neighborhood locals," she said.
Stay tuned for more information in the June Newsletter.
Refer to the image by Camber & True Collective: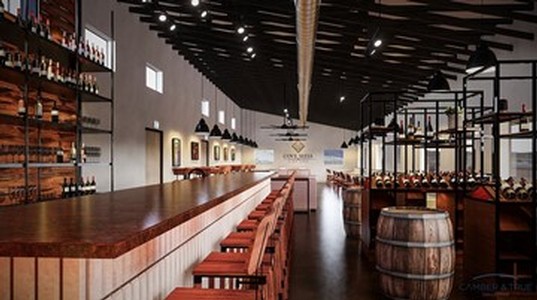 ---
Welcome - Tina Giese
Tina Giese joined our Tasting Room team on April 22. She'll be working most Fridays in the Cottonwood Tasting Room and will work Thursdays & Fridays when we move to Cornville. She previously worked at Page Springs Cellars for many years and we are very happy for her to join our team !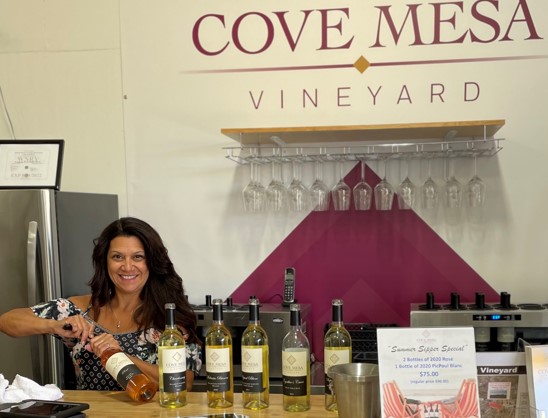 Below are some fun & interesting facts about Tina:
I'm a California gal, born and raised, I have lived out here for 9 years now, and I really love Arizona and Arizona wines.
I love to hike and garden as well as cook. Spending time with family and friends is a must and dear to my heart. I travel back to California as much as I can to visit my family and friends. But I do have family and friends that I consider family here as well.
Another passion of mine was to ride a motorcycle and wanted a Harley for many years. I started about five years ago on a Honda Rebel and recently just got my Harley. I LOVE IT!
One of my favorite whites is Vermentino and its hard to say what my favorite red is I love so many of them, I tend to fall more on the lines of a bold, dark, dry red and really it's about who you're with, what you're eating, where you're at. Each glass of wine is differant and changes with all that included, such a delight!
I am now happy to be a part of another growing winery, Cove Mesa Vineyard and look forward to meeting you all.
​
​We hope you stop by soon and meet Tina !
---
Wine and Dine in the Vines at Yavapai College
October 22
Cove Mesa Vineyard will have a wine and food booth - mark your calendars.
Refer to more info at https://www.yc.edu/v6/yavapai-college-foundation/wine-and-dine.html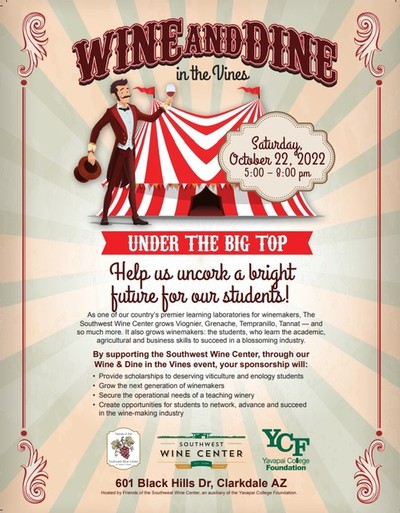 ---
Cove Mesa Vineyard in the News
April 20 - The Verde Valley Independent
Vineyard Owners seek to renovate Cornville Plaza
https://www.verdenews.com/news/2022/apr/20/vineyard-owners-seek-renovate-cornville-plaza/
Note: Need a subscription to read this.
April 10 - The Verde Valley Independent
Cove Mesa's merlot named top in State
https://www.verdenews.com/news/2022/apr/10/cove-mesas-merlot-named-top-state/
Note: Need a subscription to read this.
April 19 - Hosted @azcentral podcast
We had a great time hosting @azcentral yesterday to tape a podcast about Arizona wine! Stay tuned for more details on when you can listen to it.
Thank you to the team at @gannettco for making this happen!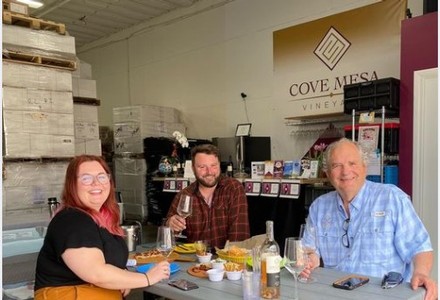 ---
April Photo Collages
Another busy month at Cove Mesa !
* * * 1st Anniversay - Tasting Room * * *
April 8-10
What a fun day yesterday celebrating our 1st anniversary with treasured friends, neighbors and wine lovers! Thank you so much to everyone who stopped by to see us and a special thank you to those who brought us lovely flowers.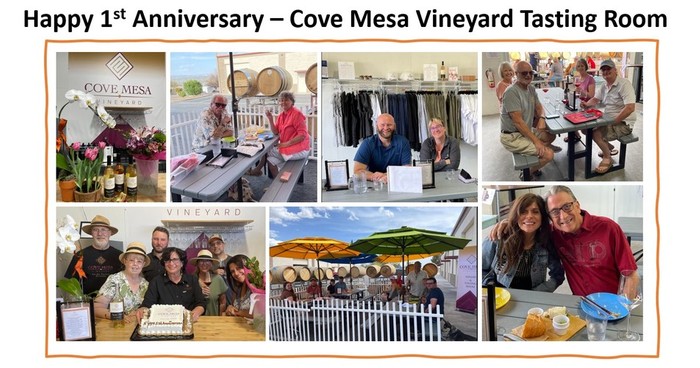 *** Wine Tasting Event at Verde Ranch RV Resort ***
April 9
Thank you so much to Verde Ranch RV Resort for hosting this lovely event for us! We had a great time meeting and tasting wine with your guests. Our new winery puppy Juliet also attended!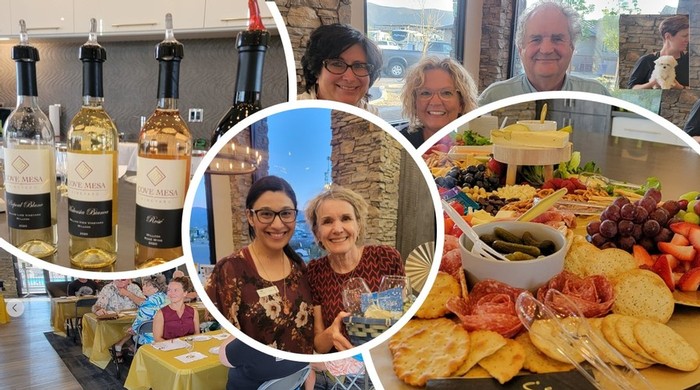 * * * Easter Weekend * * *
April 15-17
We had a great time with old and new friends on Easter weekend ! Check out our "Pink Easter Bonnet" !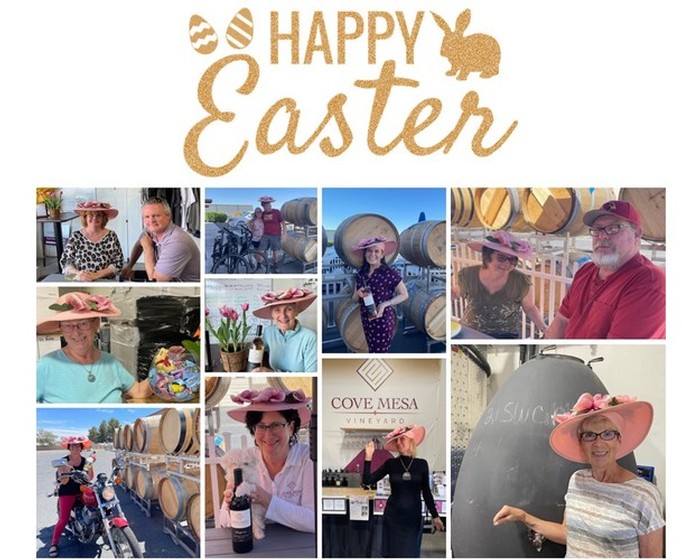 * * * Verde Valley Wine Festival * * *
April 30
This is one of our favorite weekends of the year - the Verde Valley Wine Festival! We saw many neighbors and friends - Emil & Justin were very busy manning the booth.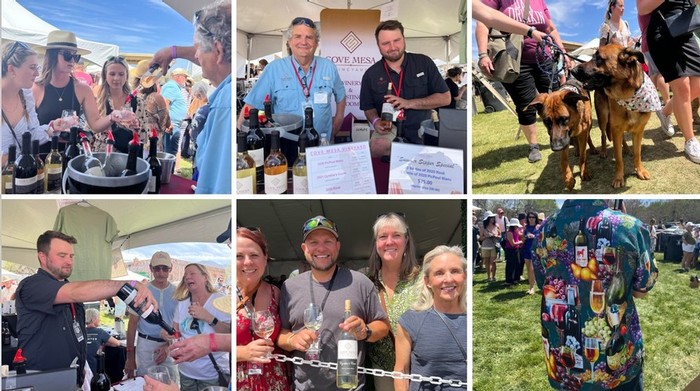 * * * Bottling * * *
In April, we started to bottle our new releases. Thanks to our many volunteers who made this happen.
In May, we will continue bottling the rest of our new wines. If you'd like to volunteer, please contact Cindy at clmolin@covemesa.com or 928-200-0752.
A typical bottling day starts at 8:30 and ends at 3:30.
We provide a great lunch (Colt Grill)
We need about 8 volunteers to run the line!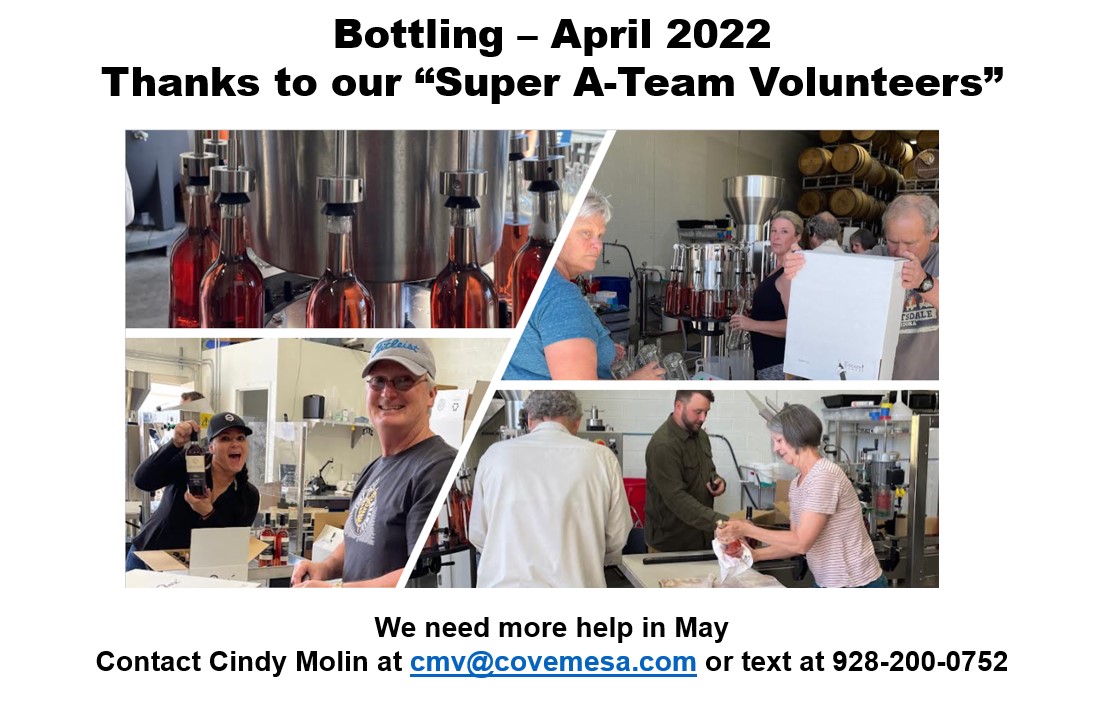 *** Meet Juliet II - Our Winery Puppy ***
Have you met our precious winery puppy yet? Little Juliet is now 3.5 months old and 2.2 pounds of pure cuteness! She is very helpful around the winery and helps us make sure our guests are always smiling!
Her brother, Romeo III, is 8 years old and is at home minding the Cove Mesa Estate vineyards. Stay tuned for Romeo's future visit to the winey to meet you, play with Juliet and help out on our winery operations !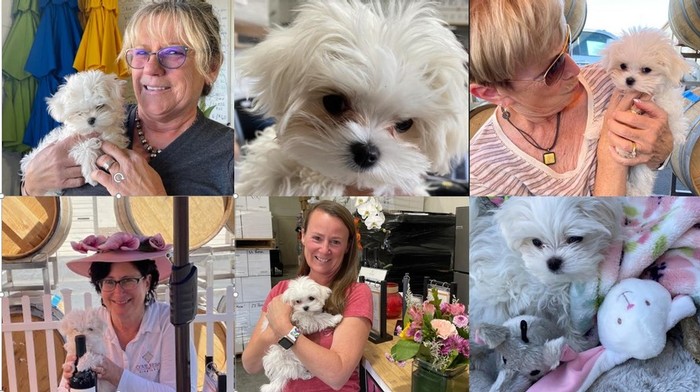 Comments
Commenting has been turned off.